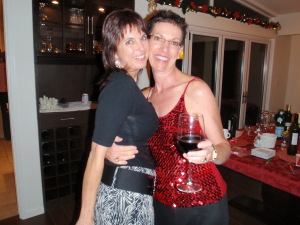 Do you find yourself in the position of attending formal events?
Is it once in a lifetime? Or is it part of your norm?
If you do not attend charity events very often it can be a challenge as to how to act, what to wear, etc.
These tips could work for attending a charity event, a fancy dinner party, or work related event.
Here are my Top 5 tips on How to attend a charity event in style.
Tip#1: Know the exact time and location of the event.
Since I was a guest to this event I did not see the tickets in advanced. I relied totally on my girlfriend. I was her "date". I picked her up and followed her instructions of going to the Bayshore Hotel in downtown Vancouver. Once we arrived I gave the valet the valet ticket. After some time he came back to us and asked if we were at the right hotel. I thought we were because of my friends instructions. To make sure, I checked the tickets. This is what any organized person would do. Ah, we were not at the right hotel. Good thing the hotel we needed was right around the corner. With a good laugh we headed off to the correct hotel. (My friend mentioned that this mix-up would make a good story one day.)
Tip#2: Arrive early, stay late.
The thing about attending a charity event is that there is usually so much going on. By the time we arrived we did not have much time to scan the silent auction items. Some of the silent auction areas had already been closed. This was fine for us however, if you want to bid on certain items it is best to get there early. Staying right to the end is the polite thing to do. Hundreds of man-hours, effort and organizing went into planning the event. It is a nice gesture to stay to the end. Plus, it makes for great people watching.
Tip#3: What to wear.
At an event of this magnitude it is always better to be overdressed. Not to worry if you do not have such an outfit in your wardrobe. Here are some fun ways to get "the look". Anything sparkly will do. If you have a long dress this is the time to wear it. Jazz up a basic black dress with fun jewelry. If you do not have these items can you borrow from a friend or see what your local consignment store has to offer. What about hair and make-up? This is the time when you can really go all out. What fun to have an up-do or false eyelashes, etc?
See if you can score a deal with your hairdresser to not charge you for doing your hair that day. Take the money you would have paid her and donate it to the fundraiser. Same goes with getting your make-up done. I'll bet these people would gladly go for it. ASK. They may even give you a little extra cash to toss in to the donate pot. The thing is you might want to go and buy a whole new outfit. Would you wear it again? If not, then that means you are bringing more items into your home. Plus, the money you would spend on a whole new outfit could be money you could donate to the charity event you are attending.
Tip#4: No mobile devices.
Most of the people attending a charity event are very serious about the cause. There are speakers, live actions and loads of activity going on. Not to mention the fun band. The last thing anyone wants is to hear a mobile device going off. That also includes texting. Ya, I know we live in a world of instant communication but this is not the time or place for it. I'm an old fashion kind of gal when it comes to this. I left my phone in the car.
Tip#5: Know your limit.
When attending an event like this it is always good to go with a goal in mind. How much money would you like to donate to this cause? It is so easy to get caught up in all of the excitement. You might end up with items you never intended to get. So, be very clear as to how much you would like to spend and what you would like to spend it on. The best items are the consumable ones. That way you are not bringing more stuff in to your home. The hotel packages, food baskets and spa treatments are some of my all time favorites. These also make great gifts for family and friends. Consumable gifts are the best!!
The event I attended was so glamorous. It was a fun night. The dinner was yummy and the dessert was divine. With a Paris theme you can only imagine. I was thrilled to be there and very grateful. Watching the live action was amazing. The room was filled with excitement. Hearing the heartfelt presentations was warming. I know it was a huge success for all of those who participated.
Need help with knowing what to wear, what fork is the right one to use, or which glass is yours? Please contact me for a FREE 30 minute coaching call on how to get the most form the charity event you are attending.