How would you like to have 6 weeks' worth of bran muffin mixture in your fridge?
How would your family like hot, fresh muffins in the morning?
We all know that one of the best organizing tips is to cook or bake in bulk. It takes no more time to make a huge pot of soup as it does a small one. You still have to cut up the veggies, etc. Each time I make this best bran muffin recipe ever I think of you, my readers. You might have seen this recipe in the past or maybe you are seeing it for the first time. Either way, I have updated it, made it healthier and added a twist. My mom says "she thinks she could sing after eating one because of all the nuts and seeds."
Try this simple recipe and be ready to make it again and again. It is LOW fat and no added sugar.
Best Bran Muffin recipe ever
2 cups All bran cereal
2 cups Boiling water
1 tsp Salt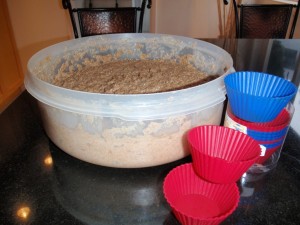 Combine in a large bowl or plastic tub (remember it needs to fit in the fridge for up to 6 weeks)
Next
In a mixing bowl cream together:
1 cup Cooking oil
4 Eggs
4 1/3 cups Buttermilk (equals the 1 liter container) I use the low fat kind.
Add this mixture to the above cereal mixture
Lastly
Add these remaining ingredients to your above big bowl of mixture
5 cups flour (I use spelt or whole wheat)
4 cups Natural Bran
3 tbsp Baking soda
Let this mixture stand overnight in the fridge.
When you are ready to bake some muffins, simply put a small amount of the mixture in a bowl (the large batch might separate while in the fridge. Not to worry just give it a good stir).  Add whatever you like. For example: cinnamon, dried fruit, hemp hearts, flax seeds, nuts, applesauce. Get creative. No two batches need to be the same. Make sure it is muffin recipe consistency. Not too moist and runny. Bake filled greased muffin cups ¾ full at 400 F (200 C) for about 20-30 minutes or until your toothpick comes out clean.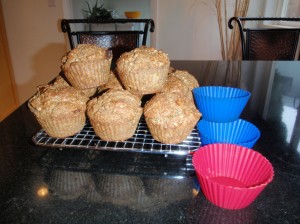 I love the new silicone muffin cups. You do not need the grease or the paper liners. They are the best invention.
I would love to hear what you put in your muffins. Please leave me a comment below.
For quicker, great bulk cooking ideas please contact me for a FREE 30 minute phone consultation. I will give you ideas and suggestions on how to move forward in a more organized bulk-cooking way.