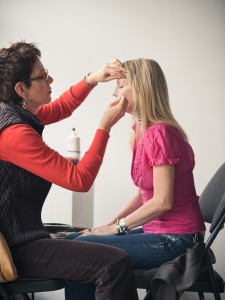 Most of you know I come from a cosmetic background. With well over 3 decades in the business I thought it was time to share a few of my trade secrets. Like most of us, putting on our make-up is a habit. One day rolls into the next and before long we realize we have not cleared out or organized our make-up for some time. This is not a good thing.
Here are a few of my top tips for organizing your make-up. You'll be able to find what you are looking for in 20 seconds or less and be up to date.
Tip#1 Pump bottles. Whenever possible use cleansers, moisturizers and foundations that come in pump bottles. This saves time. No more opening the containers morning and night. Simply pump out what you need. It is also more sanitary as your fingers are not touching the open caps.
Tip#2 Brushes. One good set of brushes is all a gal needs. My favorite is the MaryKay brush set because it comes in a nice roll –up container. This is especially handy when traveling. Good brush sets will last many years. Wash them once a month in a little shampoo and conditioner. Allow to dry overnight. Toss out all old, used sponge tip applicators and broken brushes.
Tip#3 Colour cosmetics. This includes eye shadows, liners, lipsticks and blush. Dump out your cosmetic bag, drawer or basket. Know your limit. How many items do you really want and need? It is safe to say that 3-4 eye colours will cover your basic needs. Toss the ones you never use and ALL purchasing mistakes. Come on, we all have one or two of those in our bag. The shimmery gold eye colour that you thought you HAD to have. Toss ALL lipsticks you are no longer wearing. The ones with just a little left in the tube, the FREE ones that are not your colour and the outdated ones. Keep your favorite 3-4. Do the same with your liners and blush. The thing is we wear 20% of our make-up 80% of the time.
Tip#4 Storage. Pick one place to store your make-up. Do you like to keep it all in a cosmetic bag, a basket or a drawer? The more places you have to store cosmetics the more likely you will spread to those areas. This is not a good thing. I keep all my items in one small drawer in the bathroom. I also like to have a travel cosmetic bag ready to go at all times. I put all my "almost finished" eye colours, blush and liners in there.
Tip#5 Toss. How many bottles of half used creams, lotions and potions do you have? Do you go onto the new before using up the old? People have the best of intentions of using up those partially used bottles. They don't. Do yourself an organizing favour and toss them out. OR promise me you will use them up before buying new.
Do you have lots of unopened make-up items, cosmetics or toiletries? Please donate them to your local women's shelter. They would be happy to receive them.
Keep your "look" up to date with regular consultations. Many cosmetic counters offer this service. So do home based cosmetic companies. Find a consultant who knows your style and one that you trust.
I love organizing cosmetic drawers, bags or baskets. Be sure to contact for a FREE 30 minute phone consultation. We will discuss your make-up needs; your storage concerns and solutions. I'll even give you the latest make-up trends.