Did you start the collection or did someone start it for you?
Is the collection something that you love to look at?
Do you use the collection?
Did the collection happen by accident and then get completely out of control?
Check out this short video on Collections VS Clutter and then read on to find out the difference.
Collections and clutter are 2 different things.
Clutter is an untidy collection of things where as collections are several "like" items intended for display or investment.  A collection can be untidy if it is not stored, displayed or cared for properly.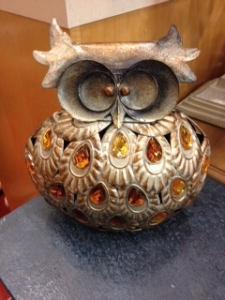 * Is this collection something you started? In the case of Mary. NO! Her parents thought it was a good idea for her to have an owl in her office. Then a friend and then another friend. Never once did my client buy herself an owl. She did not start the collection nor did she ever intend to have an owl collection. This is important to note.
* Do you like the collection? My client thought it was ok to have one or maybe 2 owls in her office however by the time I started working with her she was not happy with the takeover of owls. They were everywhere and it was looking too cluttered. This is where a collection starts to become a problem. Another client of my inherited a salt and pepper shaker collection. She had at least one hundred pairs and only used one!
* What to do with the collection? In the case of Mary she was ready for a change in her office. She had enjoyed the owls for many many years. We decided to keep her top 3 favorites. The one from her parents and 2 other neat looking ones. The rest we put in the hallway of the university with a sign that said "free".
* What happened next? The interesting thing is that all the people walking past her office door thought she was leaving the campus. They did not understand why all of a sudden she wanted to get rid of the owls. It made them a little uncomfortable at first until they heard she was just going for a change.
All the "free' owls were gone by the end of the day. They each got a new home in several other offices. Mary can go visit her owls any time she likes!
* How to stop a collection. If you no longer like the items you are collecting (or someone started collecting for you) or if they have taken over, it is time to put a stop to it. This can be a little delicate especially if family and friends have always bought you something to go with your collection. It is an easy gift giving idea for them and now what will they do? You will need to let EVERYONE know that you are no longer collecting XYZ. Instead you would prefer they give you consumable items or donate to a charity of their choice in your name. Let them know you are downsizing. This might even give them permission to start downsizing too.
Some collections can be sold on EBay, Craig's List or at consignment stores. Some collections can be passed down to other family members. Unfortunately some collections end up in the land fill. Be careful what you start to collect. Be mindful of what type of collection you start for others. Is it something you will enjoy for years, does it have a purpose or value? Once it starts to take over, become a dust collector or not serve you any purpose it is time for it to go.
Check out these two pictures of collections nicely displayed and enjoyed by the owner.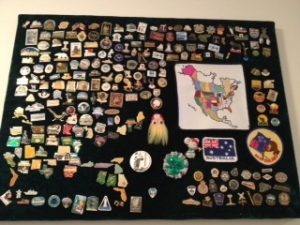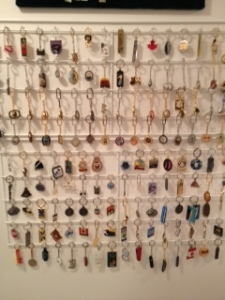 I like to collect interesting people, memories and cash! How about you?
Hoo Hoo Hoo do you know who has not had their FREE 15 minute phone consultation?
Share the love by sharing the link.