Do you like to travel?
How organized are you when you travel?
Watch this short video on organizing travel documents for some of the inside scoop.
It was taken in the Cairns Australia airport.
Next time you take off for some exotic place you will be ready and organized to go.
When we were at the check-in counter in Sydney getting ready to head to Cairns the guy in front of us wanted to use his Facebook page for identification. He had not watched this video on "organizing travel documents!"
He was very surprised that the agent would not let him do so. Maybe one day in the future we will be able to use our social media as identification however, in the meantime be sure to use these travel tips so you will not miss a flight or get turned away.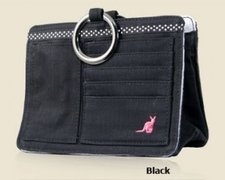 You can use a file folder, a Ziploc bag or my all time favorite…I use the Pouchee purse organizer for organizing travel documents.
It holds a passport perfectly (very easy to put it right back in its place once it is returned to you from the custom's officer). It holds all your other identification including credit cards and cash.
It even holds your lipstick, camera and cell phone along with a pen. A pen is a very important item to carry when traveling. There are always documents that need to be filled out.
Be sure to check out the Pouchee purse organizer here.
If you like this video on organizing travel documents, click the "like" button and then share it with your friends.
  And if you're not in the "Getting it Together" community, head on over to gettingittogether.ca and get on the list.  You'll get instant access to a free eBook that outlines a simple 10-day plan for organizing 10 different areas of your home in 15 minutes or less.