Wouldn't it be great if you had a balanced life all the time?
As you strive for that balanced life and ultimately get it, there may be times when things are a little out of whack or not balanced at all. How do you cope in those times?
Know that your unbalanced life can be temporary if you check out this short video on "How To Have A Balanced Life Once and For All"  then read on for Getting It Togethers' Top 4 Tips
Tip 1. Get More Organized Personally
Is that easier said than done? What about streamlining your home and getting it more organized? It takes 40% less time to clean an organized home. How would you spend that extra time? Look for ways to simplify. For example,
making a big pot of stew at the beginning of the week or keeping meals easy and simple. Also, setting a weekly meal plan and doing one big grocery shop a week can be a big timesaver. Do your shopping when the grocery store isn't busy like before 10:00am in the morning or after 7:00pm at night. Better yet, shop online and have it delivered.
Tip 2. You Don't Have To Do It All Yourself
Resist the urge to do it all yourself. Delegate some tasks or temporarily giving up some activities that aren't serving you at this time. For example, volunteer activities might have to be put on hold. You can always go back to these events once your temporarily unbalanced lifestyle is back on track. Be sure to give people plenty of notice so they can fill your position.
If you really want some extra time and relief why not hire a housekeeper. Just think of all the things you could be doing while your home is being cleaned.
Tip 3. Down Time Is Key
Everyone needs down time and relaxation time. Down time means sitting and reading a book, going for a massage, having a bubble bath or getting a manicure.
TV is one of the biggest time busters. Even with PVR. Did you know that a half hour show is really only fifteen minutes; the rest is commercials! How much are you watching? The average person is watching between 2-4 hours a day! Keep track in a week; you might be surprised. While you're at it, keep track of how much time is spent on Social Media. This is another big-time buster and for what?
Tip 4. Remember Your Life Goals
Whether your life is balanced or unbalanced at this time, here is a great question to ask yourself when doing any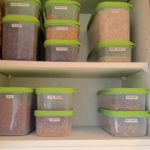 task: "Is this contributing to my life goals?" If the answer is "yes", then keep on doing it. If the answer is "no", then delegate it, dump it or deal with it. Keep in mind to always be fair, firm and friendly, especially when delegating.
PS: Using a weekly plan sheet which is colour coded will give you more balance. Have you got yours? If not, Contact me at www.gettingittogether.ca or contact me directly at rowena@gettingittogether.ca I will get back to you.
You can even have a lesson on how to use it by booking a FREE over the phone discovery call.
A balanced, organized life is a happy life. Give yourself that gift.