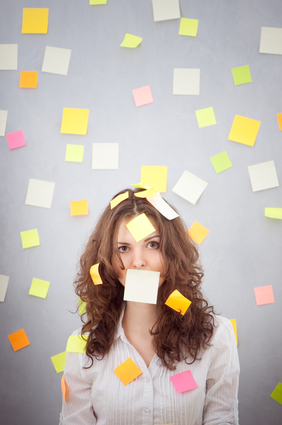 I have seen people with to do lists that are as long as my arm. And I have a long arm! Do you have your to dos on your phone? Do you have them in a book? In your mind? What about on your fridge? Or maybe you have a combination of all of these.
Time Saver #6: Have one system for keeping track of your "to dos." If you like to have your list on your phone, keep it there. If you are like me and are really visual, have it on one piece of paper.
The most important thing about to-do lists is that they only have 6 things on them. Start by putting the most important thing that you need to do tomorrow at the top. Chances are it is not checking emails. If you do not get all of the items done on your list, you would take the unfinished items and make them your number 1 or 2 priorities for the next day. I would also recommend looking at your list and allotting time frames for each task. I catch myself with having very high expectations of what I can get done in a day and low expectations of how long a task will take, and I suspect I'm not alone there. Budget in some cushion time — usually about 30% — to give you some wiggle room.
What are some ways you can streamline your to-do lists? And what do you notice about how priorities shift when you only have 6 items?