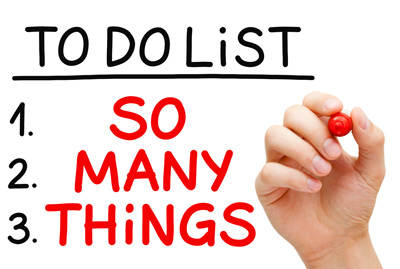 Frequently Asked Questions

What is a Professional Organizer?
A Professional Organizer is a person who provides hands-on organizing, consulting, and coaching / mentoring services to help people simplify their lives and reduce stress in their work or home environments.
At Getting it Together, we help you to get organized in all areas of your life. We help people change their lives, reach their goals, reduce their stress and have more joy – by getting uber-organized in all things.

Why should I hire a Professional Organizer?
It is very common for people to become overwhelmed at certain times in their lives. If your life has changed due to health issues, relationship matters, aging or other 'life events', sometimes it's all one can do to just function as best as possible, taking it one day at a time. Or – just by having kids, you've added a lot more complexity to your life, as well as 'stuff' into your home.
Or maybe, for you, it's not a matter of a specific life event that is causing you to feel disorganized or overwhelmed – maybe the whole 'being organized' thing just isn't your forte. Just like technical computer work isn't mine. We all have our strengths – and thank goodness they differ among us!
To get – and stay – organized and clutter-free, it's important to have easy, simple and quick systems and steps. Hiring a Professional Organizer will help you get out from under the clutter and create boundaries and systems that support you to get the results you want, most effectively.

What happens during an organizing session with Getting it Together?
We will assess your challenges and goals – ie. what is your desired outcome? We will then work with you to achieve that outcome.
We'll help sort and purge any unnecessary possessions, then create easy systems to help you maintain an organized state.

Will I be asked to throw away all my treasures?
Absolutely not. It will be entirely up to you to decide what to keep and what to get rid of – however, we will work with you to help you identify what you truly no longer need.
I partner with the top re-sale stores for clothing, furniture and gold jewellery (I love nothing more than hearing my clients' squeal when they get a cheque in the mail from something that sold!!).
Whether you have high end clothing, beautiful home decor items or large pieces of furniture, I can find a home for your previously loved things. I will also sell things for you on local sites (eg. Craigslist), and pass the proceeds to you.
And I make all the arrangements for items to be donated or discarded. My goal is to help make it easy for you to let go of what you no longer need – which will open up the space for more joy and new life experiences.