Getting it Together
is a professional organizing company based in Vancouver, BC. Hands-on organizing services are available through-out the Lower Mainland.
Getting it Together
also provides time management and 'all things organized' coaching / mentoring in Vancouver as well as world-wide over the web.
Rowena List
is an engaging and energetic speaker!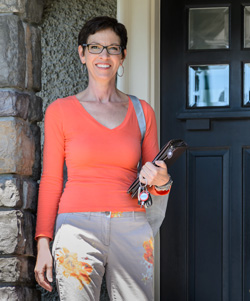 At the heart of Getting It Together is founder Rowena List. That her surname is List is kismet indeed!
Rowena was quite literally 'born to organize'. Dubbed by her clients and friends alike as "the de-clutter queen", she believes that being organized in all areas of life can help us to reach our goals, mitigate stress and be the best versions of ourselves. Whatever that means for each of us.
Her 25+ years of experience include achieving a Director level in sales for a world-renowned cosmetics and skin-care organization – where she helped hundreds of others maximize their productivity, in turn maximizing their profits.
Drawing on her experience and innate expertise, Rowena customizes a solution for each and every client – offering effective systems, tools and tips to meet each of their unique needs.
Her attention to detail, and her caring and supportive nature are what make her a joy to work with. She'll also bring a smile to your face when she finds your money! For some fun facts, check out Rowena Finds $ to the right.
Her non-judgmental and pleasant disposition make 'clearing the clutter' and learning the tools and tips of 'all things organized' fun, motivational and empowering! Contact Rowena now.
Rowena is a Silver Leaf Member in good standing with the Professional Organizers of Canada. (POC)
Rowena Finds $ Cash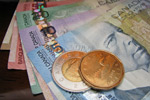 Rowena's 'claim to fame' is that she always – yes, always – finds her clients money!
In the process of de-cluttering, money and valuables can be found in the most interesting of places.
The smallest amount of money she found was mere pennies … but she did recently uncover $10,000 for one client from cash and valuables that were literally buried in the garage!
Rowena Cares
Rowena truly cares about each of her clients that she assists with a life transition or organization project – no matter how big or small. And her caring nature shows up in all areas of her life. She supports not-for-profit organizations regularly both with volunteering time as well as donating money. Not-for-profit 'pets' of hers include the Soroptimist organization – helping women and girls improve their lives in the Tri-Cities area. And she supports local artists by volunteering her time to host receptions at a local art gallery.
Rowena is by nature a 'giver', which is why she loves supporting her clients so much.