Fess up! How often do you forget a password?
Do you have several different passwords you use for several different sites?
Can you imagine having just ONE password for everything?
Have you ever wished there was one secure place to store all of your passwords?
Well there is.
Check out this short video on How to Organize your Passwords for the latest Getting It Together tips.
Now that you have watched this video it is time to organize and set up all of your passwords.
Here are the four simple steps:
1. You will want to make a list of all the passwords you have and what company they are attached to.
2. Then you will want to double check that the passwords you have still works and that you still really want to be a part of that site or company. You may have set up passwords for site that you needed at one time and have since found that you no longer require that site.
I found that I had passwords set up for things I no longer needed or used. DELETE! There is no need keeping records of things you no longer need or use.
3. Next, you will want to set up your account with http://www.1password.com.
4. Lastly you input all of your passwords into http://www.1password.com
Once all your passwords are inputted you can lock it up.
The best thing about 1password.com is you can access your passwords from anywhere in the world as long as you remember your ONE and only master password.
If you feel you might forget that one master password then you will want to write it down in a secure, safe place. You might even want to write it out backwards so only you know what it means. Look how successful Oprah has been using her name backwards. Her production company is Harpo. 😀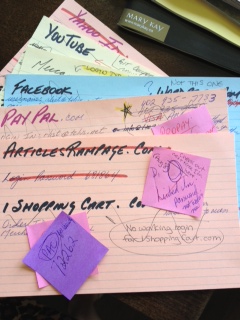 As part of my estate organizing services I am recommending my clients write out their passwords on a piece of paper and keep it in their safety deposit box. This is helpful information that your executor might need.
What did you think of the way I use to keep my passwords?
Looking forward to hearing your comments on storing passwords. Please leave them in the box below.
Have you had your FREE session yet? If not then please pick up the phone and take full advantage of your FREE 20 minute session. We can discuss any password dilemmas you might have and or any other de-cluttering questions.
Call, text or Facetime:  604-520-9550 PST