How did you do with downsizing your Christmas decorations from last year?
Did you have the best of intentions?
Did you get stumped on what to give away?
The sentimental decorations are one of the hardest to deal with. Aren't they?
What I find is that no matter how hard I try I still end up with one or two new decorations. People make me things or buy me something. As much as I appreciate the thought from the gifter it still leaves me with the dilemma of how am I going to store these added items.
Once again I am faced with pairing down my decorations so they can all fit in my 3 boxes. Remember part one easy Christmas decorating ideas?
I also promised you in that first video I would share my secret about the type of Christmas tree I have.
Check out this short video on easy Christmas decorating ideas to see it.
So many apartments and condos do not allow "real" Christmas trees. Many of you are wanting to be environmentally friendly and do not want to support trees being cut down. Then there are the people that simply do not have the room to put up a tree, or maybe you are going away for part of the holidays and do not want to fuss with too many decorations.
I'll bet you are liking the idea of my Christmas tree more and more. IKEA liked my idea so much they started selling fabric trees. 🙂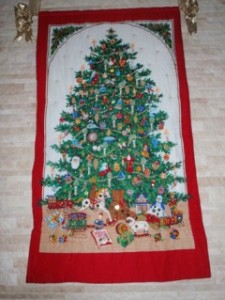 They are not as fancy as mine but then again this piece of fabric did not start out looking like this.
By the way, did you take advantage of your free session? No need to wait. It is only 20 minutes. Grab a coffee and give me a call.
We can discuss how you can have easy Christmas decorating ideas. I also have a fabulous idea to share with you. What to do with the Christmas decorations you no longer want and where they will go.