Hopefully by now you have your systems in place. Did you decide to go paperless or are you feeling more comfortable with a small file cabinet?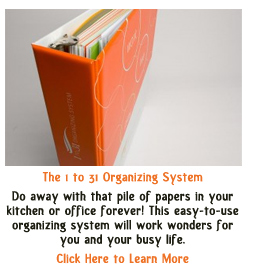 Did you check out the fees at your bank? If you received the 1to31 organizing system how are you doing with it? Do you need a quick consultation on how to get the most from it? If so please contact me and I will walk you through it. In the mean time, check out this short video on

How
To Get Financially Organized
– part 2
and then read Getting It Together's Top 5 Tips Tip #1: Automatic savings. Set up an automatic savings deposit every month. Look at your finances and decide what amount can go to your savings accounting. If it is done automatically you will not miss it. Even small amounts add up. Check out the documentary "livingononedollar" if you do not believe me. I save all of my change and add it to this account. Those loonies and toonies add up for those of us living in Canada. I see the States have a one dollar coin now too. Welcome to our world America. Tip #2: Make a monthly date with yourself. Once a month take the time to look over your financial situation. Review your bank statements and files in your file cabinet if you are not paperless. If you receive everything online set up files on your computer using the same file names in tip 1 from part 1 of

How To Get Financially Organized

. Also each month reconcile your spending, your cheque book and your budget. Tip #3: Have a financial goal. Whether you are just starting out in your first job or are established in your career it is important to have a financial goal. How much do you want to save each year? How much do you want to donate if anything? Take a good hard look at all of your expenses and come up with a plan. If you find this overwhelming give me a call and I will help you organize all of this. This tip alone will be very empowering if done correctly even if you do not make the kind of money you would like to be making at this moment in time. Tip #4: Clear out the old. Once a year clear out all of your old bills, investment statements and any other papers that happen to make their way into your files. That can happenJ Tip #5: Talk. It is important to talk to your kids early on in life about money and finances. Get them to set up a short term and long term savings account. Talk to your partner about your financial goals. Do you have the same values around money, saving and spending? P.S.>> Click here to listen to my Guest spot on BlogTalkRadio. It was so much fun! A great short story to end with. Shared by one of my readers. Thank you The Magic Bank Account Imagine that you had won the following *PRIZE* in a contest: Each morning your bank would deposit $86,400 in your private account for your use.  However, this prize has rules: The set of rules: 1. Everything that you didn't spend during each day would be taken away from you. 2. You may not simply transfer money into some other account. 3. You may only spend it. 4. Each morning upon awakening, the bank opens your account with another $86,400 for that day. 5. The bank can end the game without warning; at any time it can say, "Game Over!". It can close the account and you will not receive a new one. What would you personally do? You would buy anything and everything you wanted right? Not only for yourself, but for all the people you love and care for. Even for people you don't know, because you couldn't possibly spend it all on yourself, right? You would try to spend every penny, and use it all, because you knew it would be replenished in the morning, right? ACTUALLY, This GAME is REAL … Shocked??? YES! Each of us is already a winner of this *PRIZE*. We just can't seem to see it. The PRIZE is *TIME*
Each morning we awaken to receive 86,400 seconds as a gift of life.
And when we go to sleep at night, any remaining time is not credited to us.
What we haven't used up that day is forever lost.
Yesterday is forever gone
Each morning the account is refilled, but the bank can dissolve your account at any time WITHOUT WARNING…
SO, what will YOU do with your 86,400 seconds? Those seconds are worth so much more than the same amount in dollars.  Think about it and remember to enjoy every second of your life, because time races by so much quicker than you think. So take care of yourself, be happy, love deeply and enjoy life! Here's wishing you a wonderful and beautiful day. Start "spending"….
DON'T COMPLAIN ABOUT GROWING OLD…!
SOME PEOPLE DON'T GET THE PRIVILEGE!