Is your cosmetic bag stuck in the 80s?
When was the last time you really organized your cosmetic bag?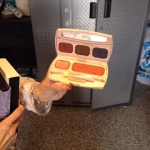 Have you ever thought about what might be growing in your cosmetic bag?
It's important to update and clear out your cosmetic bag every 6 to 12 months.
Why?
Just like fashion styles, cosmetics have a style of their own. What you wore when you were in your 20s, 30s, and 40s would certainly not be what you would be wearing as you age gracefully. It's important to refresh your wardrobe and cosmetics at least once a year.
It's also important to clear out your cosmetic bag because of bacteria. Bacteria grows in mascara and our brushes. This can cause serious eye irritations.
Check out this short video on How To Organize Your Cosmetic Bag and then read on to get Getting It Together's Top 7 Tips.
Tip 1: The use it, need it, love it principal. Ask yourself "do I use it? "do I love it?" If you answered no to any of these questions, then you know what to do…..toss it out.
Tip 2: Keep your look current. You will feel more confident, beautiful and youthful by keeping your look current. Make sure you review and update your skin care routine as well. Our skin changes with the seasons and as we age.
Tip 3: Are you being ruthless? Watch out for the three deadliest words "just in case". Go through your cosmetic bag and toss out all the old products that are no longer serving you and that you haven't used in the last six months. Keep in mind we use 20% of our cosmetic items 80% of the time.
Tip 4: Consult your local beauty specialist. Work with a cosmetic company that offers a "try before you buy, 100% guarantee". Beauty consultants will review with you what's new, what looks best on you and teach you how to use the products that are best suited for you.
Tip 5: Gift with purchase. A major source of clutter that can be found in a lot of cosmetic bags are those lovely "gift with purchase" that you never use. Donate these unused cosmetics to your local women's shelter.
Tip 6: Unused cosmetics. Did you buy something on impulse? A purchasing mistakes? If it hasn't been used, you can return it to the store or the beauty consultant you are working with. Another option is to donate it to a women's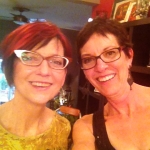 shelter.
Tip 7: Lifestyle change. For over 30 years I worked in the cosmetic industry. Now as a Professional Organizer I don't wear nearly as much make up as I use to. And with being older, I don't wear as much make-up. Did you know you look younger with less make up? Change your look as you change your lifestyle.
PS: Are you a woman on the go? Try this fast-easy routine of a simple skin care regiment, followed by a little foundation, bronzer, eyeliner, mascara and lipstick.
Would you like a fun makeover?
Contact www.gettingittogether.ca and book yours today.