How many of you have every box from every electronic item that you have ever bought or received?
The big question is… should it stay or should it go?
Check out this short video on "Should I Keep The Box" and then read on for more helpful tips from Getting It Together.
The only reasons to keep the box is if you plan on returning the item, selling it or moving it.
Let's talk about returning an electronic item. There are only so many days you have before you can no longer return it. If that time period is over and you do not plan on selling the item or moving any time soon get rid of the dust collecting box. Think of the empty space you will have.
Let's talk about moving. Chances are if you plan on moving your 70-inch TV any time soon you will be hiring movers, in which case they have the perfect moving blankets that secure your TV in place. Storing massive boxes like this take up valuable real estate and collect dust. I would never suggest storing this box flat under your bed because how would you keep it clean?
And how many of you are really going to sell your old electronics? The sad reality is they go out of date so fast and the latest and greatest is right around the corner.
Now I sell a lot of things for my clients and I have never needed the box.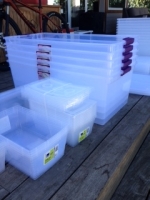 What I would highly recommend you do is:
A) Take a picture of your expensive electronics and store that picture along with the extra cords that are labelled, along with warranty and manuals in a clear box. This information is extremely helpful if you are ever robbed. It makes replacing so much faster.
B) Have your expensive electronics insured properly.
C) Think before you buy. Is this something you are wanting to keep for a long time, is it something you will sell or will you be donating it once you have finished with it?
D) D for dump all the boxes in recycle.
PS: Catch Rowena in action at this open to the public speaking event.
Friday, March 16 2018
Doors open at 11 am
She  will be speaking on the "10 ways to tame your clutter."
Register for this action packed networking luncheon, prizes, 50/50, and more.
visit www.valleywomensnetworktricity.com
And book your seat today
Limited space
Lunch included
See you there !