Are you like most people, too tired at the end of the day to even think about preparing a healthy meal?
Have you lost your creativity in the kitchen?
Would you like some go-to dishes that every family member will gobble up?
Watch this short video on How To Meal Plan Like A Pro and then follow Getting It Togethers' Top 5 Tips

Tip 1: Organize your kitchen. There's nothing worse than trying to prepare meals in a disorganized cluttered kitchen. How can you get anyone to help you if they don't know where the items are and you don't know where they are? Set aside time to donate all the kitchen items you're no longer using. Clear out all the expired food items in your pantry and fridge. Put all non-kitchen items in their proper place.
Tip 2: Clean all surfaces. Kitchen counters are not designed to be a dumping zone. Make sure all counters are scrubbed down and your kitchen is ready for food prep. Be sure to also clean as you go. There's nothing worse than a big mess to clean up after a nice meal.
Tip 3: Select your top 10 favourite meals. Things that the whole family will enjoy. Is it stew, pasta, fajitas or chicken casserole? Most households rotate their top 10 meals throughout the course of the month. Look over the recipes and see what items you need to purchase and make your shopping list.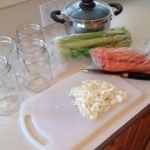 Tip 4: Prepare in bulk. When you bring home your fresh produce, wash it, cut it up and put it in containers. This saves precious time when it comes to meal prep. Select a two-hour slot in your week where you can cook in bulk and freeze. Maybe you could make a huge pot of pasta sauce and your neighbour could make a big stew and you can share. Cooperative cooking.
Tip 5: Clear the clutter from your mind. Once the clutter is cleared from your mind, it makes room for creativity. This doesn't mean you have to cook like a French chef, it just means your mind is open to put together a healthy meal for your family. Consider deep breathing on the way home from work or a walk with a friend or spa like music.
PS: Would you rather not cook at all? One of my new services is to come into your home and prepare healthy meals for you and your family. Contact me for all the details. www.gettingittogether.ca