Do you feel like your mind is racing a mile a minute? Are you in overwhelm? Does your to-do list just keep on going and going?
Check out this short video on How To Clear Mind Clutter:

And then take a few minutes to try these simple steps and feel what it's like to a have a clutter free mind.
Step One: Arrive at work/or your home office desk 15 minutes early so you can mentally prepare for your day. Get yourself settled in and review your day. Have a big glass of water and give thanks to one of your coworkers.
Step Two: Prepare your work station. Is it set up exactly how you like it? If there are things on your desk that look cluttery, tidy them up.
Play some soft relaxing background music.
Step Three: Take 15 seconds in between each task to clear your mind and breathe. This might mean running to the ladies' room or the lunch room to just quickly regroup. All you do is shake your hands in front of you for 5 seconds and breathe deep.
Step Four: If your mind is really full of to do's and family issues, take 15 minutes of your lunch break and do a mind dump. A mind dump has no right or wrong way. Simply take a piece of paper and write out everything that is going on inside your head. Are you thinking about a trip, a kid's school play, your mother's birthday etc.? Write it all out. Beside each item put a capital A if it is something you need to deal with and only you can deal with it. Put a capital B if it is something you would like to do if you had the time and a capital C on all the rest which means those are things you can delegate or get to one day when everything else is done.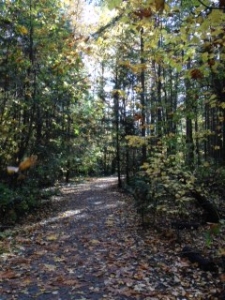 Freeing up your mind like this makes room for you to be present in all situations. Present in conversations you have with your kids, family, friends and clients.
Step Five: Clear your physical clutter from your home. If your home does not step up to greet you, you are going to feel heavy, weighed down and your mind will be spinning. Take 15 minutes each night to clear out an area of your home. Start small. Start with your tee shirts. Donate all tee shirts you are no longer wearing. Toss the ones that look like rags. Next night move on to your shoes. Keep only the shoes that you wear and are comfortable. In another 15 minutes you can toss out all the outdated pantry items. Old candy from Halloween, expired baking powder etc. Can you see how doing these simple tasks can lead to a clutter free home and a clutter free mind?
Step Six: Clear your calendar. Make sure you have some white space in your calendar for down time. Time for you to relax, have a bubble bath or do some yoga. You need to replenish yourself on a regular basis in order to be able to give of yourself to all those who require it.
You can't function from an empty basket.
And while speaking of calendars, schedule work time, play time, household responsibility time etc. Don't keep all that information in your head. That causes clutter in the mind.
Step Seven: Learn the fine art of delegating. This means releasing the need for total control. Get kids evolved with household responsibilities. Can they help with bed making, lunch making and folding laundry? Is there a teenager in the neighbourhood who can help out with some of your to do's?
Step Eight: Disconnect from electronic devices. Did you know you lose 27% of your days productivity if you check your phone first thing in the morning before doing anything else?
Turn off your phone while with those you love. Clear the clutter from your mind by not filling it with all kinds of clutter like social media, games with flashing moving parts or nonsense shows.
Make room for what's important to you and those around you.
PS: I have a gift for you. Simply contact me at www.gettingittogether.ca and ask for your free weekly plan sheet. This is a fabulous tool to keep your week in order and plan your time. As an added bonus I'll even walk you through the best way to use it in an over-the-phone conversation.
Love this article? Please spread the love by sharing it with your friends and family