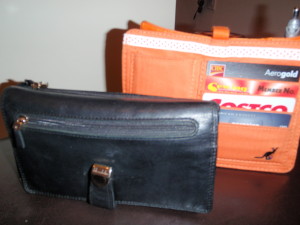 What can you tell about a person's shape, size and condition of their wallet? There are wallets that look like filing cabinets, ones that look like there is nothing in them and then there are some wallets that are held together by an elastic band.
What does your wallet look like?
What does your wallet say about you?
What would happen if your wallet fell on the floor in a coffee shop?
I love what the great money guru Susie Orman says "the thinner the wallet the richer the woman". Susie feels that if your wallet is thin you have a handle on what is inside of it.
Check out this short video on "how to organize a wallet" and watch your money grow.
Here are Getting It Together's Top 5 Tips:
Tip#1 Toss. Go through your wallet and discard anything that doesn't belong. ATM receipts, expired coupons or gift cards, frequent shopper cards for places you no longer shop, old shopping lists, etc. You want your wallet to hold important things like money. You do not want it to look like a filing cabinet. One big wind storm and every piece of paper goes flying. (Did you ever see that on Seinfeld?) If so please leave a comment in the comment box below. 🙂
Tip#2 Photocopy. Take your credit cards, drivers license, medical card, etc and copy the fronts of them, then turn them all over exactly in the same spot and copy the backs.  Usually the back of the card displays the phone number to report lost or stolen cards. If your wallet gets stolen or lost you will know exactly what was in there and will have all of the correct phone numbers handy to call and report them as missing.  Keep these copies in your online files and in your safety deposit box.
Tip#3 Organize. Sort your wallet contents by type: Susie would agree with having all your money facing the same direction. Have your bills starting from smallest to largest. Organize identification, credit cards, medical cards, shopping/membership/gift cards, etc.  Use the sections of your wallet to keep these categories separated so you can find your cards quickly. Since writing cheques is not that common, only carry one cheque with you at any given time.
Tip#4 Condense. Do you have kids? Do you carry ALL of their medical cards with you? No need to. Take a blank business card. Write all the medical numbers on the card. Place it in your wallet. If you have 4 kids, that just saved on space and weight. Store the original medical cards in your files.
Tip#5 Clear out. Once a week take a minute or two to clear out all the unwanted papers and receipts from your wallet. Take the excess change and put it in your piggy bank, laundry money or parking meter money. I keep a small change purse in my car for parking. All that change can really weigh your wallet down.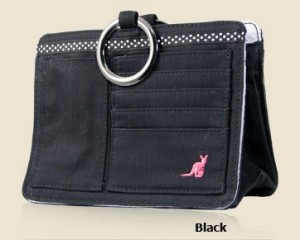 Want to be wallet-less? Put the contents of your wallet in my favorite purse organizer. The Pouchee purse organizer. There is a place for your credit cards, money, lipstick, eye glasses and receipts. It makes changing purses fast and easy. Check it out HERE.
Do you have any other tips for keeping your wallet organized? If so, share below!