Check out this short video on What To Do With Your Burnt Out Christmas Lights and then read on for fabulous tips from Product Care.
Burnt out Christmas lights? Recycle them!
At this time of year, British Columbians are unboxing their Christmas decorations, including lights. We all know that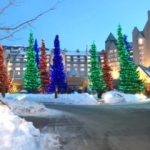 annoying feeling when you plug in the string lights and the bulbs are no longer working. Many people don't know what to do with that pesky string once it's reached the end of its useful life. Thankfully, they can be recycled.
Highlights
In addition to string lights, our program accepts all kinds of lighting products from fixtures (think chandeliers, desk lamps, etc.) to burnt out light bulbs including fluorescent tubes, halogen bulbs, CFL's, LEDs, and more.
Check out Product Care's full list of accepted products and find a location near you that accepts them online. Recycling your Christmas lights gives their parts a new life, rather than adding to our landfills. After lights are dropped off at a collection site, they're transported to authorized recyclers for processing – right here in Canada. Machines are used to break down the products into component parts (e.g. precious metal, glass, plastic) and harvest the materials that went into the products in the first place.
Thank You to Kristina Charania
Marketing & Design Coordinator
productcare.org
P.S. Give yourself or someone you love with the gift of a clutter-free 2020 and contact us today for a free over the phone consultation.
www.gettingittogether.ca