My mum passed away on September 4, 2019 at Crossroads Hospice in Port Moody BC Canada. The dragonfly is their symbol. This "just breath" dragonfly is a perfect reminder of how amazing everyone was at the hospice and how important it is to breath.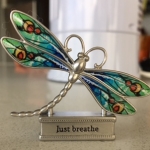 As sad as it was to lose my mum, the overall experience was less traumatizing because she had all her ducks in a row. It certainly helped having a daughter as a professional organizer.
Check out this short video on "Estate Planning Made Simple, Part 2" then read on for Getting It Togethers Tips.
My mum had a folder that had all of her wishes in it.
Over the years we added to that folder, revised several things and took out things. We had open conversations about my mums wishes. Her service was exactly the way she wanted it. She even had the music picked out. There was no second guessing on my part.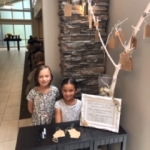 Instead of a guest book, we had a memory tree. People wrote down their special memory about my mum and hung it on the tree.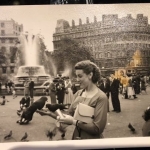 One of the best gifts my mum has ever given me was her pre-arranged service. This allowed me to grieve while not having to make major decisions about important things like cremation versus burial. And most of it was paid for years ago. Talk about a massive savings.
She had even written her own eulogy and included a picture she wanted me to use for the obituary. I sure wish I could thank her a hundred times over for being so organized, thoughtful and prepared.
Some things to consider when writing your own eulogy are
Your family connections. Father and mother's names, including mothers maiden name, your spouse, your children, their spouses and your grandchildren. List anyone else who has been special in your life.
Your date and place of birth. Make sure it is spelled correctly.
Your education, highlights of your life to date, your hobbies, employment, volunteer activities, and any other organizations that you belong to.
And don't forget to include the highlights from your life and how you would like to be remembered.
Continually add to your eulogy as time goes on. I would suggest reviewing all of this very important information once a year.
Here's the link to part one in case you didn't get to read it before.
https://www.gettingittogether.ca/estate-planning-made-simple/
For more detailed information and help with setting up your Estate, contact
us at www.gettingittogether.ca