Are you wondering when life will get back to the way it was?
Are you trying to adjust to our new normal? I know I am.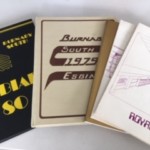 I had a couple of areas in my condo that needed addressing. My school yearbooks. I've moved them three times over the years. Never again! They take up valuable real estate and I don't look at them. What's the point of keeping them?
Check out this short video on How To Organize a While in Quarantine part-4
And then let me know your thoughts by commenting below.
PS. If you need help organizing your home or have any questions for me, feel free to email me directly at rowena@gettingittogether.ca