When I was a young girl, I grew up across the street from Central Park in Burnaby British Columbia Canada. I think I was always destined to be an entrepreneur. At a young age I went to my neighbours' and asked if I could start babysitting. I was only 11. They agreed that I could take care of their young son only if my mum was home for any emergencies that might arise.
I was in business. Yeah!!
Fortunately, there was never an emergency.
On one occasion the young couple gave me this green sewing kit. I have coveted it for decades but it was time to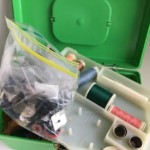 downsize as I am no longer a sewer.
If I need anything sewn, repaired or constructed I contact my talented friend Denise who owns www.hellobeautiful.ca. Be sure to check out her site and see her talents.
In the meantime, check out this short video on Confessions Of A Professional Organizer part 6
PS: What's one thing you have from your childhood? Finding it hard to part with these items?
Contact www.gettingittogether.ca today to book a free over the phone consultation