Best ever Antipasta Recipe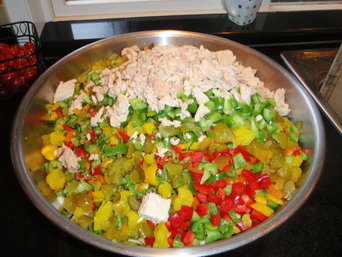 2 L dill pickles
1 L Sweet mixed pickles
1 Small jar sliced green olives
1 Small jar of pickled onions
2 Tins sliced black olives
2 Tins Yellow wax beans
2 Tins Green wax beans
2 Tins Sliced mushrooms
2 Tins Young cut corn
2 Tins Sliced water chestnuts
4 Tins tuna (drained)
2 L ketchup
24 oz Tomato paste
1 cup White vinegar
4 cups oil
14 Mixed fresh peppers
2 Large cauliflower 
8 jalapeño (seeded)
8 large onions
Chop all vegetables into small bite size pieces. Drain and rinse all canned goods.
Heat oil and vinegar. Add chopped onions and chopped Cauliflower. Boil 10 to 15 minutes.
Add rest of ingredients. Cook 15 to 20 minutes.
At 10 teaspoons salt and four handfuls of pine nuts.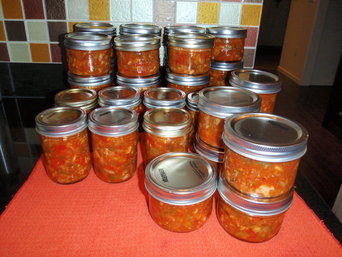 Jar and seal. Put sealed jars in water bath for 20 minutes.
Make sure all jars are sealed before storing.
This
best ever antipasta recipe
makes 14 medium jars eight small jars and 23 really small jars
Enjoy on crackers.