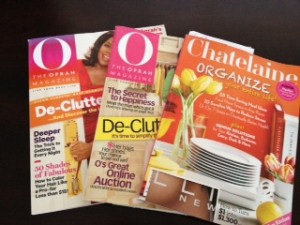 Are you the type of person who loves to save magazine articles?
Do you save the whole magazine or do you tear out the pages?
Do you have piles and piles of torn out articles?
What do you do with all of those torn out pages?
Do you ever reference the torn out pages?
These are the types of questions I get asked at almost every speaking engagement I do.
Check out this short video and hear my take on how to save magazine articles
.
If you like this video on how to save magazine articles, click the "like" button and then share it with your friends.
After watching the video are you still planning on saving magazine articles?
If so you will want a system.
Set up files:
Health
Recipes
Decorating Ideas
Personal Growth
Travel
Whatever the topics are you want to save.
While reading a magazine simple tear the pages out that you would like to save and file right away. That is the key right there. You must do it right away or else you will end up with piles and piles of torn out articles. They will collect dust and you will NEVER look at them again.
I suggest putting a date on the files. If you have not read or reference the information in that  file by a certain date (say 6 months) then toss it.
Have you found that the same information gets recycled year after year? It might have a slightly different twist to it but generally it is the same ideas and tips. This is another reason why I do not save articles.
Or take my advice in the video.
What do you think will work best for you?
Please leave your comments in the box below. I would love to hear from you.
Have you had your FREE session yet? Why not book it today. We will discuss your specific needs. For all the details, click here.