Save time and money.
Most people feel that if they buy baskets and rubber containers that they will be organized.
Does that sound like you?
That is like thinking that because you bought a gym membership you will get fit. Logically we know this not to be true however we wish it were true. Imagine if you had a magic wand or if you were like Bewitched and could wiggle your nose and voila!! The only magic wand you have is your own motivation. Your own "why" you wanting to do something. By taking advantage of my FREE phone session we will be able to come up with your "why." Book yours today.
Buying organizing products is like putting the cart before the horse.
Check out this short video on "questions to ask yourself before buying organizing products" to learn what you need to do first.

Long before you head out to the store you will want to do all of the purging, downsizing, sorting, tossing and de-cluttering. Once you have finished all of that you can start to think of products you will need to store your belongings in.
Ask yourself these top 5 questions before you take the time to go shopping and make the purchase.
1. Will this product be easy to clean? It might look like a cool way to organize XYZ however will it be easy to clean. Does it have small corners that even the smallest of fingers could not get into? Does it have grooves that will only collect dust?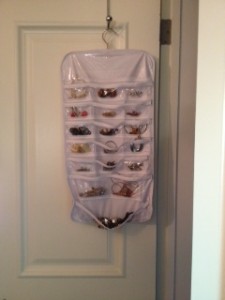 2. Will I really use this product? Do not buy on impulse or because it is "cute." You cannot believe the number of cosmetic bags I find in people's homes. It is because people like the look of them and think that by owning a cosmetic bag it will get them organized. Or travel organizers. Or earring holders. Sometimes items like earring holders are more frustrating than they are worth. Realistically will you take the backs off of your earrings each night and poke them through the tiny holes on an earring holder and then put the backs back on? If you do not think you will realistically do this then go with a different style of organizer. For years I used ice cube trays in my drawer to divide my earrings. Now I have a hanging earring holder. So easy and takes up so little space.
3. How sturdy is the organizing product? The earring holder I have mentioned in the above tip is sturdy however it is not going to last a lifetime. The plastic will eventually rip with wear and tear. Because they are so reasonably priced I will be able to replace it. That being said, the ice cube trays really did work the best. Due to living with fewer drawers in a smaller space I had to come up with this other method.
4. How will this product improve the visibility of my stuff? So many homes I work in have those pant hangers or skirt hangers that hold up to 4 or 5 items. These hangers seem good in theory however realistically you cannot see all of the skirts or pants you have on them. Same with those round rings that hold belts. You have all your belts in one place but each time you want a belt you have to take all the other belts off the circle. Sounds frustrating to me especially first thing in the morning when you are getting ready for work and might be running late due to disorganization in your life. In the end you might forgo wearing a belt.
5. Will the organizing product fit in the space you need it for? I carry a tape measure with me everywhere I go. When I do client shopping I have my list of measurements alongside my list of needed items. I also take photos of the area in which I am needing the organizing item to fit in to. Hey, you are getting all of my top trade secrets.

There are no organizing products that solve all of our clutter issues. All products are dependent on the behaviors and systems you are willing to do and keep up. Are you using the product as a tool?
P.S. The best compliment you can give me is to pass this article on to your family and friends. Thanking you in  advance for doing so.