How do you feel about doing laundry?
Do you wish there was a magic fairy that came to your home once a week and did yours?
Do you long for a nice organized laundry room?
Is your laundry room a dumping ground for all of the family backpacks, shoes, coats, recycling and more?
There are certain laundry room must haves.
In this short video I will show you some of them.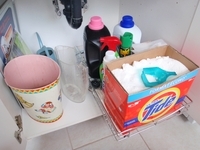 One area I forgot to film was under my laundry room sink. I have included a photo so you can see how I store my laundry detergent etc. I installed the functional pull out shelf- a definite laundry room must haves. These are so great to have not only in your laundry room but in your pantry or cookware cupboards. More on that in another blog.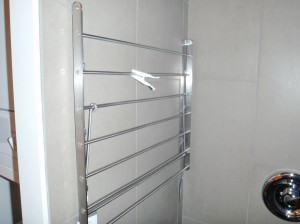 Recently I found a really cool drying rack that I added to my laundry room must haves. Check it out in the photo. It is perfect for small spaces. IKEA had it hung in the small shower area.
It is a good idea to have a place in your laundry room or home where you can hang your delicates to dry. The less we use our dryer the better it is on our environment and our clothes.
So why not take some time this weekend and get your laundry room back in order.Make sure you include your laundry room must haves.
1. Take out all non related items.
2. Get some hooks or shelves if need be.
3. Toss out all the detergents bleaches etc that you do not use.
4. Give your washer and dryer a wipe down.
5. Toss in a load of laundry.
Still having challenges with getting organized? Call today for a FREE phone consultation.
I'll give you a few tips to getting started right away.
What is number one on your laundry room must haves list? Tell us in the comments!
If you like this video, click the "like" button and then share it with your friends.  And if you're not in the "Getting it Together" community, head on over to GettingItTogether.ca and get on the list.  You'll get instant access to a free ebook that outlines a simple 10-day plan for organizing 10 different areas of your homein 15 minutes or less.
—