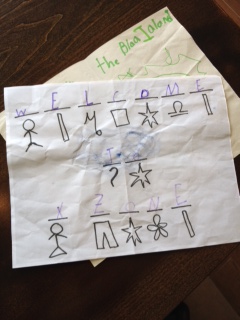 Do you have the next up and coming Picasso?
Do you wish you could keep every piece of artwork your kids bring home?
Do you keep all the art thinking that your kids will want it when they are grown up?
Human nature is such that we all think pretty much the same on this topic. We feel that every piece of artwork is the BEST piece. We feel that we want to keep all the kids artwork because it would hurt their feelings if they saw it in the recycle bin. We also think they will want it when they are grown up … is this so they can show their own kids? Do you have your artwork from your childhood? What are you doing with it? How many times have you moved it? Is it filled with dust and must?
I do not know about you, but I do not have one piece of artwork from my childhood. I am perfectly okay with that as I see other children's artwork and know that mine would have looked almost identical. Plus, what would I do with 10 plus year old artwork? I really do not feel any less than by not having my artwork.
I do have a vivid memory of a piece of artwork that I did that won me $5.00. It was of a dragon. It was big and bright and colourful. The memory is all I need.
Take a quick moment to watch this video on How to Organize Kids Artwork:

Then give these simple 5 tips a try on how to organize your kid's artwork.
Tip#1: Designate one wall or hallway for your kid's artwork. Hang a long piece of string on that wall that looks like a clothes line but attached to the wall. Hang clothes pins from the string.
Tip#2: Each time your child brings home a piece of artwork hang it from the "clothesline".
Tip#3: At the end of each week take a photo of your child standing beside his/her artwork. These pictures make really cool screensaver slideshows or a Pinterest board!
Tip#4: At the end of each week take all the art down off the string. Along with your child (or not) decide on ONE piece of art from that week that you will keep. The rest can be recycled, used as wrapping paper for the next Birthday party, made into greeting cards for family and friends, or turned into party invitations. You can even send the artwork off to grandparents or aunts and uncles.
Tip#5: At the end of each month you will have 4 pieces of your children's finest Picasso. Along with them or by yourself select ONE of your favorite to store in a keepsake box. The other 3 get tossed, or repurposed as mentioned in tip #4. At the end of the year you will have 12 pieces of art. Now it is time to get ruthless again and select ONE piece that will be saved in your child's memorabilia box or you may choose to frame this one piece or you may choose to put it in a bound book. You can also add the weekly photos that you took to this book or scrapbook. I have seen really cool bound books of kid's artwork. If you are interested in this please contact me and I will give you the contact information.
I would love to see your children's artwork. Please send me a picture or two. Also, I would love to hear your comments. Please fill in the box below with your great ideas on organizing your kid's artwork or any questions you might have.
Have you set up a Pinterest account? If not please feel free to contact me. I'll give you the highs and lows in a FREE 30 minute phone consultation. We will discuss whether you need a Pinterest account. What you can pin and why you might like to have a Pinterest account.