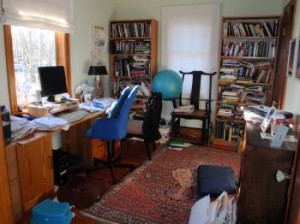 Are you a solopreneur? Does your home office become a dumping ground for all the family projects, junk, and homeless items? Has your home office been neglected?
How many hours a day are you in your office? Do you share it with your kids?
How do you feel when you walk into your office? Do you close the door and go do laundry? This is probably not good for business.
A home office will naturally get disorganized from time to time however what is important is to be able to get it back in working order in 15 minutes or less.
Take a minute and think of 5 keywords you would use to describe your office. For example, you might want to describe it as inviting, relaxing, tidy, creative and organized. Keep these 5 keywords in mind when purging and organizing your office.
To find what you are looking for in 20 seconds or less, I am going to share my secret with you. Below are my 5 simple tips to having an organized workspace and keeping your sanity.
Tip #1 Clear the top of your desk
It is important to have a clear working surface. This also helps with keeping your mind clear. Start by clearing off the top of your desk except for your computer and phone. Put everything in a box (you'll use this box later so keep it handy!). Wipe your desk down. Put one or two personal items on your desk. A family photo or a souvenir.
Tip #2 Have a working system in place
Do you share your office with other family members? Is your office a makeshift room in the house? Whether you have a small working space or large one it is important to have systems in place. Ask yourself these key questions.
Do you need:
An area for files?
A place to take care of family business like bill paying or kids school stuff.
A place for incoming phone messages and "to-do's"? (I use www.1to31.com)
A working area that's bigger? How big?
An area for being creative?
Now set up these different "areas or places" on the top of your desk or in a file cabinet. Before you file a piece of paper ask yourself this question "do I really need this paper or could I find it on the computer the next time I need it?" The key is to have "zones" in your office. A computer zone, a working space zone, a reading zone etc.
Tip # 3 Think outside of the box (LITERALLY!)
Go back to the box you used in Tip #1 and take out one item at a time. Put that item in its 'new' place. Keep in mind YOUR 5 keywords you have used to describe your office space. File items that need to be filed, toss items that are no longer needed and delegate anything you can. All non- office items need to be put away in their proper place within your home.
Tip # 4 Conquer email clutter
Was life better before email? Do you wish your inbox was cleared out by the end of the day?
Take 15 minutes to organize and purge your inbox. Set up folders for areas and subject matter you use most often. If you can, your email folders should correspond with the names of your paper files. This will save you time trying to find things later. Delete emails you no longer need. Unsubscribe from newsletters you no longer read. Be ruthless.
Check emails only once or twice a day if your business can handle this. Turn your email indicator off. The little bell is like a dog with a bone. It rings and you get distracted.
Tip # 5 Take 15 minutes at the end of your office time
Take 15 minutes at the end of each work day to clear off your desk, put things back and set-up for the next morning. Make this a habit. Even schedule it in your datebook if you have to. You'll be so excited to get to work each morning knowing everything is in its place and that there is a place for everything.
Don't let your office become a dumping ground for you or others. Keep those 5 keywords handy. Watch how much more productive you will be.