Thank you for all of your questions. You know I love hearing from you. The interesting thing is that most people share very similar questions and concerns when it comes to clearing the clutter and getting organized.
Please keep those questions coming. Together we can help each other.
Q- What should I do with those plastic bags that a set of sheets comes in? I hate to toss them because they have the zipper closure and look so handy.
A- You are right! They can be handy. I have used those bags to store my good round baking tins. I find by putting them in the bag they do not get scratched. They are easy to see and store. I have also used those bags with my clients. We put all electrical cords in one. Again easy to see.
I don't know about you but I have NEVER been able to get the set of sheets back in those bags. Have you?
Q- How can I tell my friends and family to stop buying me presents? I just do not need anything and I am trying to downsize.
A- Most grownups do not "need" anything. We are all so blessed. Many years ago I sent a letter to all my friends explaining that I was no long going to give gifts. Instead I wanted to make memories with them. They were all so happy to get this letter because they never knew what to buy me or their other friends. Now we get together for lunch, a movie, or have our nails done. Anything that is memory making and consumable. Be the first to start a trend. Think consumable!
Q- How many sets of towels should I have?
A- This depends on the number of people in the house. I would recommend 2- 3 bath towels per person, 1-2 hand towels per person and 5-7 face cloths per person. Most homes have a washer these days. If you go to the laundromat then you might want a couple of extras. Use one bath towel per person per week. It is better for the environment and laundry bill. Use one face cloth per person per day. The common used hand towel can be changed every few days.
I can never figure out how the hand towel can get so dirty when we are drying our clean hands! I keep a few "older" towels on hand for when we are heading off to the pool or beach.
Q- What can I do with all the recycling my local garbage company does not pick up?
A- Do you live in the Metro Vancouver Area? If so, you know your local company only picks up plastic, tins, glass and paper. Here are a couple of options. Call BC Recycling Hotline 604-RECYCLE (604-294-7972) or take your items to a local recycling depot. There is one in Burnaby at 4800 Still Creek Ave or once a month you can go to Britannia Center in Vancouver. Check out their site at http://www.pacificmobiledepots.com/Mobile-Depot-Info-Rates.html
Treat yourself to a nice coffee after.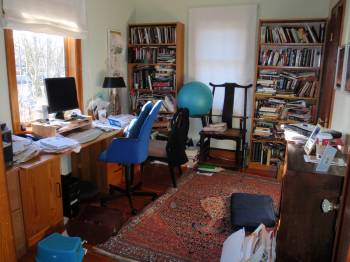 Q- How can I tell if I am disorganized?
A- The rule is if you cannot find what you are looking for in 20 seconds or less you are considered disorganized. This might sound harsh. What it means is that if your keys are on the hook you'll find them right away. If they are not then you might go searching. If your eye glasses are always put away in the same spot you will be able to find them. If they are not, it might take you longer than 20 seconds to find them.
What is your burning question? What is your biggest organizing obstacle? Inquiring minds want to know. Please leave a comment below or contact me at www.gettingittogether.ca for a FREE 30 minute phone consultation. We will discuss your burning question and how you can move forward with clearing the clutter.