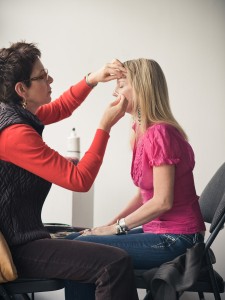 Will you be seeing most if not all of your family over the holidays?
Is it time to take a group shot?
Would you like the inside scoop on the perfect snapshot? Keep reading.
Every few years it is a nice idea to take a family portrait. I'll bet you think of this great idea once everyone is sitting down to turkey dinner. But, by then it is too late to get everyone organized.
Check out these 5 simple tips from Getting It Together and make taking great family photos fun and memorable.
Tip #1: Send out the memo. Yes you heard me correctly; you'll want to get an email out to all the people who will be in the family photo. In this email explain what you would like everyone to wear.
The best choices for clothing are neutral ones, nothing with a pattern, really bright, nor white. So for example you might have a few people wearing navy blue, a few in brown and the rest in taupe. This brings the eyes to all the different people and not at the tops they are wearing. If you are a casual family, ask that everyone wear casual bottoms like blue jeans or cotton pants. If you are a more dressy family, ask everyone to wear black pants and/or skirts.
Tip #2: Hair. Best if everyone wears their hair the way they normally do. For example, you would not go get a fancy updo if you normally wear your hair down or in a pony tail.
Be as natural as possible; just make sure to give it a good brush and little fluffing up. I recommend brushing the kid's hair seconds before you take the picture.
Tip #3: Make-up. Stay away from anything shiny. The sparkly or shiny makeup casts a glare on the camera lens and then shoots light back. It will appear in the print like you have lights on your face. Keep your makeup "flat". You might want to hire a professional makeup artist to do everyone's makeup. This is a fun treat for the ladies.
The number one key is to make sure you have concealer on under the eyes. Those darn dark circles tend to really show up in photos. Lipstick and mascara are also a must.
Tip #4: Setting. A nice backdrop in a natural setting is a must. You don't want anything distracting in the background that will take away from everyone's face. Good lighting is also key.
Have you ever seen a photo where it looks like a tree is growing out of the person head? Be mindful of the surrounding objects.
Tip #5: Smile. Be as natural as you can with your smile. Most of all, be sure to have fun with the family photo shoot. By having fun it will show on your faces.
Are you ready to take some great family photos?
With the holidays coming up, now is the perfect time.  Contact me today for a 30-minute complimentary no-obligation phone consultation.
During the consultation we will discuss makeup application, price and availability.
For every 4 faces that you book for makeup application, I will do the 5th face for FREE. That is a savings of over $50.00!!
Here's to your success!
Rowena@GettingItTogether.ca
604-520-9550